Dr. Andrew Stirling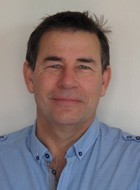 Dr. Andrew Stirling
Doctor Stirling has a B Sc. degree with a Class 1 honours in Immunology and Dip. Education as well as his medical degree from the University of Newcastle. He relinquished a Commonwealth Scholarship whilst doing a Ph.D. in Immunology, to undertake a Bachelor of Medicine and subsequently gained Fellowships of the RACGP and FACP. For the last 12 years he has specialised almost entirely in Phlebology (the study of Diseases of the Veins and Lymphatics). During that time Doctor Stirling has attended or presented to every national conference in Phlebology organised by the Australasian College as well as every World meeting of the International Union of Phlebology (UIP).
He currently uses endovenous laser techniques, surgery and sclerotherapy, although he has had experience with V Beam, YAG, Copper Bromide and Light Sheer lasers as well as the medical and cosmetic use of botulinum toxin.
One exception to working in the field of venous disease, is Dr Stirling's interest in Andrology where he is proud of his association with Metrocentre to whom he provides surgical services. With up to 8 open ended vasectomies done per week in Melbourne he is perhaps the most practised proponent of this technique resident in Tasmania.
Doctor Stirling first graduated with a degree in marine biology from the James Cook University in Townsville, and although this was a career that fitted with his love of water related adventure sports like Scuba diving, kayaking and sailing, the life of a research scientist was ultimately not fully compatible with Andrew's need for community contribution. This naturally led to the study of medicine, and afterwards, appropriate hospital training in obstetrics, anaesthetics, general medicine and surgery – more particularly plastic surgery with the accent on trauma repair and skin cancer removal rather than the purely cosmetic side of this specialty.
Later came some years in the Solomon Islands working on behalf of AUSAID, where he became the Director of Medical Services for the Western Province. After two years with over seven hundred deliveries, all manner of surgery and a constant stream of tropical infections from Malaria to Mycosis, Dr Stirling felt the call to a specialisation where surgical or procedural dexterity was a premium asset, but the on-call was not 24/7. Venous disease was the perfect choice.
If you are a venous disease sufferer you will know that if you have progressed to the stage of reflux discomfort, DVT or non-healing ulceration then the impact is profound. However venous disease and associated lymphatic problems remains largely an ignored field. It has become something Dr Stirling is passionate about and you will receive attentive, professional and compassionate care at the Vein Remedies Clinic. All procedural work is done on site with a consequently negligible infection rate and an accent on 'Walk in – Walk out' management of conditions regardless of how severe the problem. We will do most relevant investigations 'there and then' however some imaging as well as some specialised procedures may be referred to colleagues who have made such their area of expertise.
Dr. Andrew Stirling
Suite 3/7 High Street
East Launceston, TAS 7250

(03) 6331 3999
(03) 6334 6248